"WINE IS MEANT TO BE WITH FOOD - THAT'S THE POINT OF IT."
JULIA CHILD
As as Chef, I understand, better than anyone, the flavor nuances of the dishes on the menu I design for you. I have partnered with the Boisset Collection to bring you access to a family of wineries with deep historical roots in many of the world's most prestigious terroirs.
I offer three ways to bring Boisset's Curated Collection or Small Estate Wines to your table:
9-COURSE CHEF'S WINE&DINE DINNER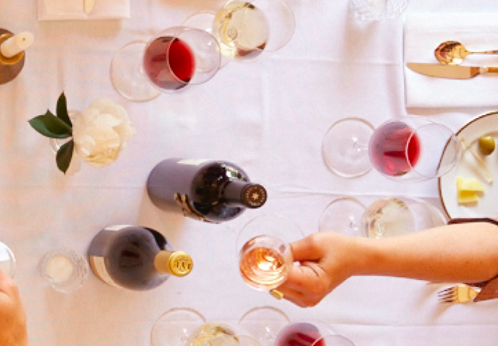 IN-HOME WINE TASTING EXPERIENCE

9-COURSE CHEF'S WINE&DINE DINNER
Chef's Tasting Menus are a great way to experience food and wine and how they complement each other. These 9-course menus feature Small Plates, which are grouped to work with 3 wines.

Pricing from $150/person (for food and wine)
wine pairing dinners
Ask me to pair and provide wines based on your dinner menu. You'll be sent a wine proposal with selections and pricing.
I can also suggest wine pairings for and provide a Cheesemonger's Board, a wonderful way to start your evening.
FRENCH & CALIFORNIA WINES
Boisset is one of the world's largest and most respected family-owned wine companies, with a celebrated portfolio of terroir-driven wines — many rated 90-100 pts. — from historic estates in California and France. Boisset is a leading proponent of organic and biodynamic farming methods, and is committed to producing wines in harmony with the natural balance and rhythm of the earth.
Wine Pairing Dinners from pricing from $120/person (for food and wine)
WHAT IS An in-home TASTING EXPERIENCE?
Let the wineries come to you with one of our in-home WINE TASTING EXPERIENCES, presented before your dinner is served:
Most experiences include a selection of five or six wines, though on occasion we will offer mini-experiences of three to four selections. Whether you and your guests are wine aficionados or wine novices, I can help put together the right Tasting Experience for you.
Tasting Experiences may be centered on a specific theme that mirrors one of Boisset's unique tasting room experiences or to highlight a specific style of wine. Each experience allows guests to taste a variety of wines, many of which are limited production exclusive selections. I can help you choose the perfect Tasting Experience for you and your guests.
You will have the same opportunity to purchase any of the wines that you taste that you would were you to visit a winery, with the added advantage that you have the option to have your wines shipped to your home.